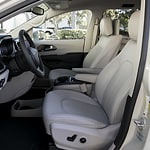 Every vehicle class offers its own set of unique advantages on the road. This is done by equipping the vehicles with performance features that best fit the customer's needs. Since it is primarily used for transporting families, the Chrysler Pacifica offers performance features based on safety and convenience instead raw horsepower.
We at Chrysler Winona are proud to say that the Chrysler Pacifica has the best towing capacity in its class. You will be able to tow up to 3,600 pounds when driving this new minivan. Family vacations will be a lot more fun when you can take the boat or camper with you.
The electronic stability control system in the Chrysler Pacifica will keep the family safe every time you drive in Winona, MN. This system applies a small amount of brake or throttle when the stability of the vehicle is compromised. This makes it very easy to maintain directional control in rough conditions.