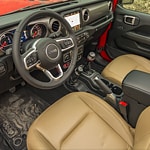 The 2020 Jeep Wrangler has taken the automobile industry by storm thanks to its excellent styling, abundance of features, and powerful engine. Some of the available trims included are the Rubicon, Sport, Sport S, and Sahara. This machine is also equipped with cutting-edge technologies to create a more enjoyable drive.
First things first, the exterior of the 2020 Jeep Wrangler is classically cut with fine craftsmanship. Every square inch of this façade is masterfully detailed with precision. The 2020 Wrangler has militaristic flair thanks to its retro styling. Consumers can choose this SUV in a range of exterior paints. Strong body lines can be seen flowing from end to end without any breaks. There are also large windows, tow hooks, and high wheel arches. The new Wrangler can also be purchased with 33-inch all-terrain wheels, which gives off a bolder appearance.
Hit us up at our location for more information or for a free test drive.